EVEN RVP CAN'T GET DUTCH BACK ON TRACK
The last time Robin Van Persie featured in the Holland International team was back in October 2015 during the Euro 2016 qualifier. Since then, two years has almost gone by and Van Persie has not featured for the team again.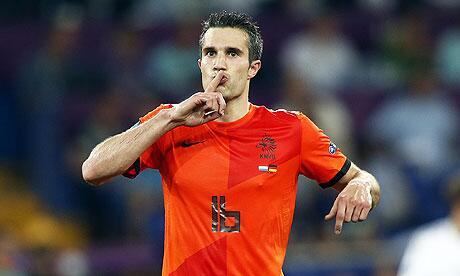 However, that all ended with Holland recalling the ex-Manchester United star to the national team for their two key World Cup qualifiers, with the Oanje gathering up all their attacking arsenal to try and ensure victory.
Van Persie was named in a preliminary squad of players who are expected to feature in the world cup qualifiers games, with coach Dick Advocaat also recalling Ryan Babel and Eljero Elia as part of the 32 players' line-up for the games.
Van Persie who plies his trade at club level for Fenerbahce is the top scorer in Holland, with over 50 goals in 101 international appearances to his name, so it was no wonder they wanted him back!
His last act before this was as part of the team that fell to a 3-2 defeat by Czech Republic in the European Championship qualifier back in October 2015.
Advocaat stated that he had worked with Van Persie and has seen what he can do. "I worked with him last season at Fenerbahce where he showed what he could do. Robin is a player we might still need but we'll see in the next weeks how fit he is and if he is playing," he concluded.
Unfortunatley the dream return wasn't to be, with the Netherlands missing out on yet another major tournament despite beating Sweden 2-0 in the qualifiers. The rest of the big hitters including Brazil, Argentina and Portugal made it through and are the favourites - you can find a summary here of all the odds.
The Swedes headed into the playoffs as Holland could only defeat them 2-0 instead of the 7-0 required to finish behind France, which was always going to be difficult.
Arjen Robben started the miracle chase as he scored from the spot in the 16th minute but he and the rest of the team struggled to get more goals in. The revered Bayern Munich winger netted another just before half time but then the goals dried up and the expected miracle remained a mirage.
Sweden now face Italy in the World Cup qualifying playoffs instead of the Netherlands, with the playoffs taking place November 9 and 14 to determine the final teams from the European continent.
The draws for the World Cup is slated for December as Russia put finishing touches for the event next year.
While the Netherlands crash out of the forthcoming event, Portugal and France sealed their spot with a 2-0 victory over Switzerland and a 2-1 victory over Belarus respectively. Belgium were already qualified but they sent a statement with the 4-0 thumping of Cyprus.